05 Mar

Get creative with your mobile coffee van

I've always believed that people are often much more creative than you think- you just need to give them a chance to express their creativity. Working with the Marriott team has really cemented this theory. I am currently on a UK tour, being joined by various sales managers and account managers along the way. They were briefed to bring food along to compliment the coffee and hot drinks I am serving. With the new service being a creative meeting and events service, the team have put their thinking caps on and today I've seen the most creative display of goods so far.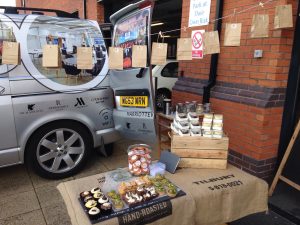 My favourite has been these branded paper bags hanging from above people's heads. Imagine the curiosity when you walk out to see this, and the desire to have one of these little bags- without even knowing what's inside. These were by far the most popular treat on offer, and I could see the look of desire (and fear that they would not be quick enough to get one of these goodie bags) on people's faces as they saw them. Inside was a doughnut. Actually the least exotic treat of the plethora of pastries, rich chocolate brownies and fresh strawberry tarts, it was the creativity of the display that worked to encourage you that these little bags contained the most desirable treats on offer. It's all about the presentation. I wholeheartedly agree that presentation makes a huge impact on desirability, which is why we go to such effort to keep everything looking clean, fresh and modern at Camper Cafe. Here's the evidence of the last bag being taken from the washing line. There are still lots of those incredible cakes left…….
The creativity of this idea really impressed me and enticed me to think of new and innovative way for us to display our goods and make it more attractive to customers. Well done Marriott!