22 Feb

Camper Cafe comes up with ingenious solution to reducing carbon footprint of their coffee vans.

With the increasing focus on the environmental impact of events, Camper Cafe has come up with an innovative solution to reduce the environmental impact of their coffee vans. Modifications to the set-up enables the water supply to the coffee machine to be heated by the van engine as it drives, rather than external energy sources on site, resulting in significantly reduced energy requirements.

A 70 litre tank of filtered water is pre-heated as the van drives. This water is then fed into the coffee machines to reduce the fuel quantities needed to bring the water up to temperature by the boiler in the machine itself. This pre-heating mechanism, utilising the heat generated by the engine as it drives, significantly reduces subsequent energy requirements on site. Co-Founder and Director of Camper Cafe, Will Skewes, came up with the idea. "I think as business owners we should all be aware of our environmental impact. At Camper Cafe we have always wanted to be at the forefront of technology to benefit our business, customers and environment. We already have mobile WiFi in all of our units and I am always looking for ways to make them more energy efficient. Our business has to strike a balance between looks and functionality. Over time our vintage coffee vans have had lots of modifications to reduce fuel consumption, and we are pleased we have now reduced the energy requirements for the machines themselves. This latest modification not only saves significant energy to power the machines but also enables us to keep customers happy by improving production rates. In essence we're killing 2 birds with one stone."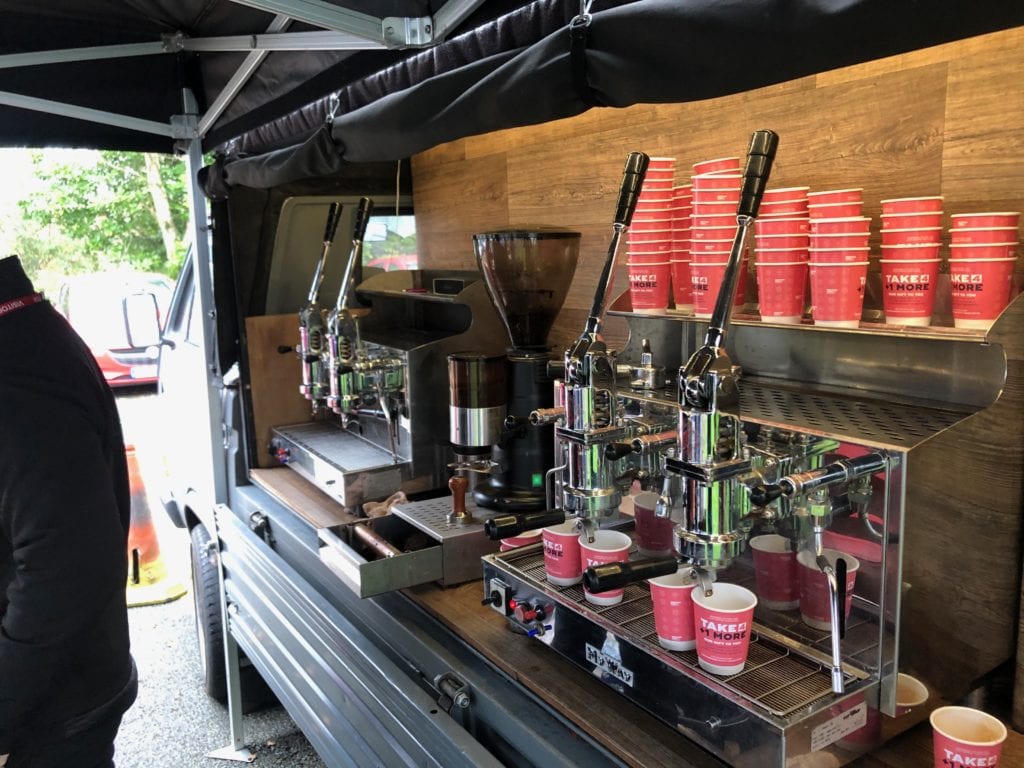 The mobile coffee provider originally started operating out of vintage Volkswagen campervans but now has a fleet comprising of a mini, a trailer unit, 2 Volkswagen Pickup Vans and pop-up solutions also, Each unit serves a slightly different purpose and is purpose built for the type of event and the location.
Camper Cafe works with leading brand names including Marriott, eBay, Google and the University of Law to provide event coffee services. "Some of our clients require us to travel across the UK visiting customers and serving high quantities of people over a short space of time. This solution not only reduces our carbon footprint but has really increased the number of people we can serve over a given timeframe. We're continuing to look at our suppliers also to see how they can improve our carbon footprint" says Will.
If you want to discuss our mobile coffee vans for your events you can contact us for an informal chat via hello@camper-cafe.co.uk or 07871 598162