23 Mar

Where there's a Will there's a way

A good project manager is worth their weight in Gold as I can now vouch for. Last night I drove 3 and a half hours to York to be up and ready to serve coffee for the corporate team of Marriott Hotels. Their UK tour is taking them round all of their key customers – event booking agents that use Marriott venues and events services regularly. Marriott is promoting www.meetingsimagined.com; a fantastic new website that can create any event to suit budget and requirements and then share the idea with others so the end result is highly transparent.  Camper Cafe is the accompanying touring artisan coffee specialist and we've already had lots of compliments on our coffee and hot chocolate. Our first stop was at NYS in York, where we treated 40 members of staff to breakfast and an introduction to Marriott's meetings inspired concept.  Many of them had yet to hear of the concept but they were given a demo powered by Fli-fi's Wi-fi solution on their iPads, a truly professional touch.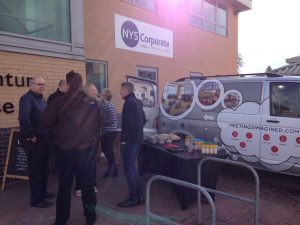 The next stop was Banks Sadler. On the way, the alternator warning light came up on the van and after a few discussions it was agreed that with a further 7 days of visits scheduled that this needed to be looked at. So, Will the project manager stepped up to the challenge and with everyone we called saying that they would need to order the part in, with fitting taking a further few hours so a it would take a couple of days to fix.Will managed to get a resolution that would have the van fixed by the end of the day. Sheer determination and good negotiationg skills! With Marriott furiously shuffling round visit times we managed to get most of the Monday's customers seen before the van went in for fitting. An all round positive outcome. Luckily the coffee machine was still running like a dream, and the coffee continued to flow; a bit like a swan, we were calm on the outside but paddling furiously underneath. Nobody on the outside suspected a thing!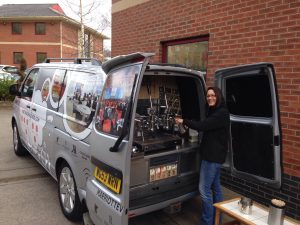 Here we are at stop number 3 crammed onto a pavement outside government events booking agency. As I write I have just had news of the completion of the new alternator fitting so it's off to Manchester I head for a jam packed day tomorrow. Where there's a Will there's a way!