20 Mar

On tour with Marriott Hotels

About 6 months ago we started discussions with Marriott Hotels around an idea they had to promote some new services. They wanted to visit customers and discuss their 'meetings imagined' services, which involves the customer being able to tailor their events by choosing themes, colours, equipment and locations to create the perfect setting. What better way than to take round a coffee and some snacks to treat them with whilst informing them about these services? So Camper Cafe offered to build a new coffee van that would work within their scope, branded with Marriott promotional designs and go on tour with them to help them 'wow' lots of customers.

And here we are, having completed the first day of the 10 day tour really successfully. It went something like this:
Early start of 6.15am to get to Hoddesden for 9am. We now have some fancy technology which means we can warm up the coffee machine as we drive. No more arriving 1 hour early to events (although of course I still arrive 1 hour early to make sure I arrive in plently of time.)
At 8am when I arrive the machine is hot so I have an hour to kill- coffee time! Everything is tested and proven to be working well.
9am we set up at VolkerFirzpatrick. 3 of the Marriott team arrive and I'm greeted by lots of compliments of how professional it all looks.
9.45am we start to serve around 20 event bookers at VolkerFitzpatrick. They all enter a competition to win lots of Marriott goodies and Marriott get all their names and details- smart idea!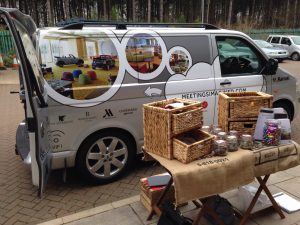 10.30am we pack up and head off to Royston to the head office of Johnson Matthey. All their event bookers brave the cold and  join us for a chat and a coffee and cake. The Marriott girls do a good job of promoting their service and the Johnson Matthey ladies love the hot chocolate in particular!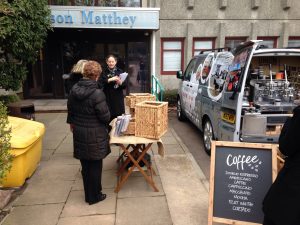 At 12.45 we leave Royston for Peterborough where we have our last 2 stops of the day- British Sugar and Colorplast. The Marriott ladies meet with about 40 customers across the 2 businesses and fill their diaries with meeting for when the service launches is April. There is a great buzz aboit these ladies which means I'm loving being a part of it (as an ex-sales person I'm itching to get involved too)
At 4pm we're done and head to Norfolk for the gym, a swim and an early night to prepare for day 2.
The coffee van ran to perfection, with the machine hot all day- no noisy generators required! We also got a lot of respect for the newfound quality of coffees lovingly made by Camper Cafe. One successful day for Marriott Hotels and also for Camper Cafe with ideas of next year's tour already being discussed. Now for day 2 to begin…..got to go and serve some coffee!