23 May

Exhibition Giveaways
Maximise customer engagement with branded coffee as your giveaway
For a marketer, standing out from the crowd can be a challenge. Especially if you're in a highly competitive market – take IT and finance for example, where a point of differentiation can be hard to verbalise easily. I should know as I fit that mould. A marketer by trade for an IT service provider, I know that getting your message heard above the rest is tricky.
It is my belief that relationships are key to sales. People like to buy from those they know, trust and have been recommended to. So I feel strongly that marketers in service based sectors should focus on build those relationships . This is where I come back to the power of coffee as a free giveaway. Throughout the 8 years we have been in business we have seen the dependence on good coffee rapidly rise. I thank my lucky stars that we chose to go into this business. The fact that coffee is now the second biggest commodity in the world is pure music to our ears.
So perhaps it's not surprising that we've seen our business go from strength to strength. We've adapted to demand and are now on our 5th mobile coffee van to suit the ever changing market. We have had the fortune of working with clever marketers like those at Marriott who have been using coffee to engage with customers for over 5 years now. They're clever because coffee the one thing that you can pretty much guarantee 80% of your audience will love. How could someone refuse a coffee brought to them? Hence why it's the ideal giveaway.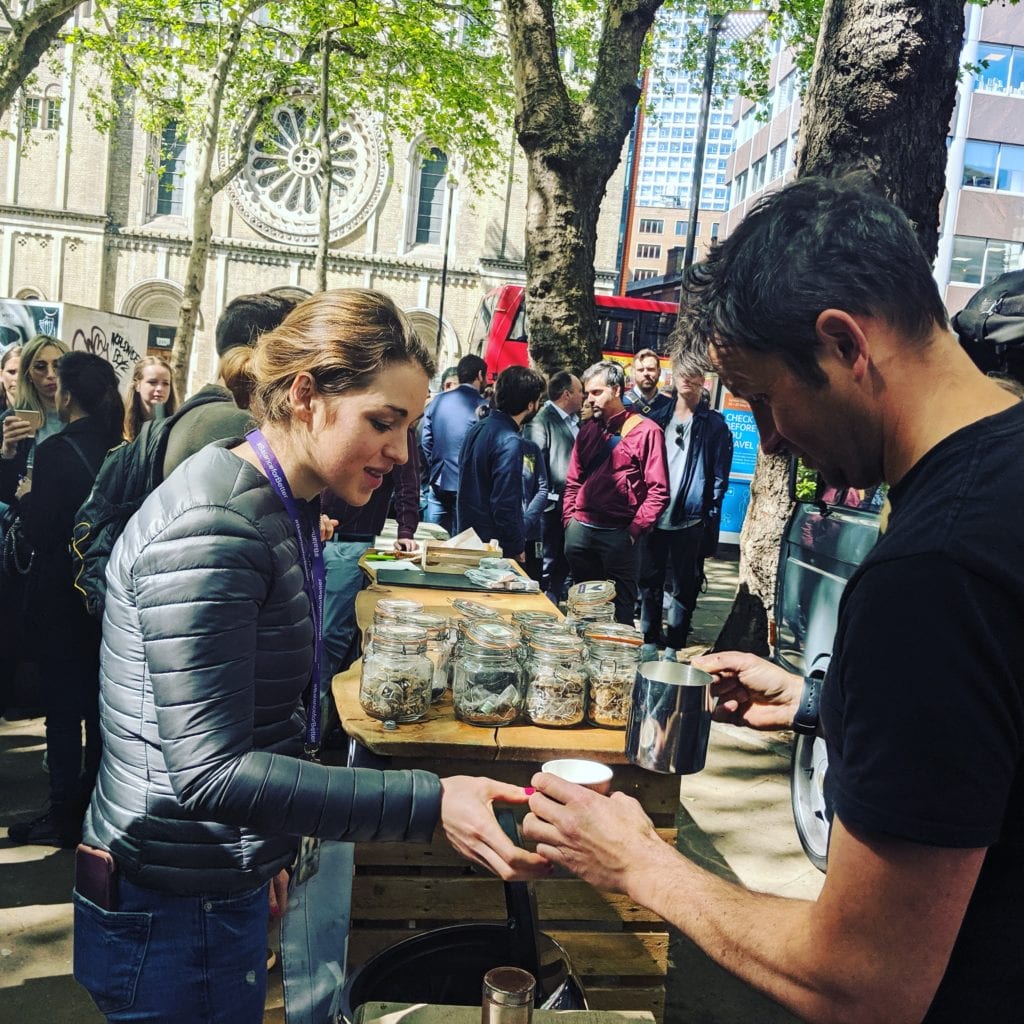 Aside from its popularity, another reason coffee works so well as an exhibition giveaway is that it takes a bit of time to lovingly craft each coffee. And that little bit of time is just about the perfect length of engagement with prospects. A light chat – and, if the conversation runs dry, you can always take about……you guessed it, coffee! There's no hard sell needed. You can GUARANTEE that your guest will be responsive to any conversation topic whilst happily waiting for their coffee.
Don't forget that in an exhibition or live event scenario, banded cups will reach far and wide. Coffee will pulling in more punters with an exponential effect……you never know who you may meet. In fact, sometimes we wish coffee wasn't quite as popular when we have a queue of people waiting!
To discuss branded coffee units for your exhibition or event give me a call as I'd love to chat through ideas with you to make your marketing budget achieve more.
Beth Baxter
Co-Founder – Camper Cafe
beth.baxter@camper-cafe.co.uk