31 Mar

Days 7, 8 and 9 of the Marriott meetings imagined tour

Now I've settled into the daily coffee routine and I feel part of the Marriott team (complete with branded jacket) I have come to be the linchpin of the coffee tour. With new faces joining the tour every day, I am really enjoying meeting the wonderful team and seeing the delight on their faces as they catch a glimpse of the coffee van for the first time. Day 7 saw us cover a lot of miles. From Leicester to Spalding, Stamford and Peterborough, we visited 4 key customers who place a lot of business with Marriott Hotels. The Marriott ladies didn't disappoint. Their selection of goodies included granola bars, 'design your own easter egg' competitions, cupcakes (based on the 7 themes that scientists have found meetings to fit into) and fresh fruit. The fruit didn't go down as well as the sugary treats but perhaps the high blood sugar levels was one of the reasons that the clients gave glowing feedback on the promotion, coffee van and treats.

Day 8 started in Kingston Bagpuize near Abingdon, before heading to Bristol for 2 visits and finally Swindon for 2 more visits.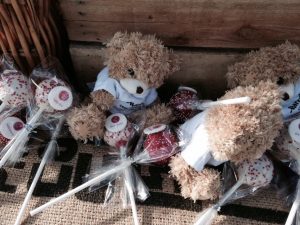 With representatives from Chepstow, and Waltham Abbey there were plenty of amazing Marriott goodies including Macarons, a giant Easter egg, chocolate chip cookies, doughnuts and fruit- so much tempting choice for the lucky clients.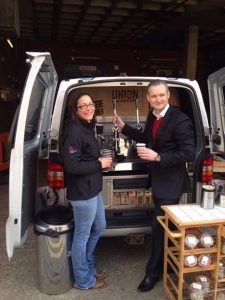 Finally, today has covered my home turf of the M4 corridor. A trip to Wycombe, followed by Aldermaston, Windsor and ending up at Heathrow saw day 9 of 10 completed successfully. The biggest client, Golfbreaks had 150 employees which meant we gave the coffee machine a good test for over an hour. Luckily it coped well with the demand.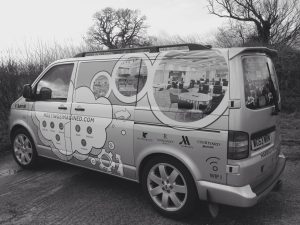 The final day of the tour tomorrow is around south west London and Surrey. I'll miss the positivity and enthusiasm of the Marriott team and am already feeling a pang of sorrow that it's all coming to an end. The team have worked so hard, not just at entertaining the clients but at getting them all to post photos to their Marriott UK National Sales Agents facebook page (check it out to see all the photos), getting feedback from customers, arranging follow up visits and reporting back to their line managers. With regular conference calls between the sales team I'm impressed by how well such a big team can maintain open lines of communication- a true testament to how corporate sales teams should be run.