05 Apr

Commercial Shoot Craft Services

One of our favourite jobs at the moment is working a commercial shoot, keeping the production team happy with with coffee and craft services.

Surrounded by secrecy, in a world full of creative talent, mingling with artists at the top of their game – the mystery and professionalism that shrouds a commercial shoot is quite simply awe inspiring.

Coming from a marketing background myself, I sit firmly on the side of marketing that lacks any design talent, I am more the strategy, the planning, understanding the customer and how to get a brand in front of an audience whilst building credibility. I am not, however, at all skillful when it comes to produce any creative aspect of making a brand come alive; something which I know is so important to grow a brand. Words? Yes. Imagery? Definitely not. I find it fascinating how ideas can be turned into reality.

Did you see the new Samsung phone adverts? We've been behind the scenes offering commercial shoot craft services. The Gucci kids ads? We were working with the team.. The h&m clothes ads? We've supported the production on windy cliff tops trying to get the perfect photographs of freezing models. Although it may seem a very glamorous lifestyle, we've experienced first hand the extremely hard work that goes into it. The 12 hour days, grabbing food and drink on the go. The sudden changes in location required when the weather isn't playing ball, the overtime required to ensure that they get THE shot. It gives us huge respect for the industry and creatives that the job done.

Perhaps, being a marketer, I can appreciate that quality is all important. It's not enough to have completed a job, it's about committing to getting THE shots and keeping the client 100% happy. And that's part of what we enjoy. The pressure, the hard work and the results.

We're there delivering the coffee and craft services and it makes our job seem easy. But the reality is that we have similar pressures. For us it's not just about serving coffee and some snacks. It's about delivering an experience at a quality that we're proud of and that the team will go away raving about.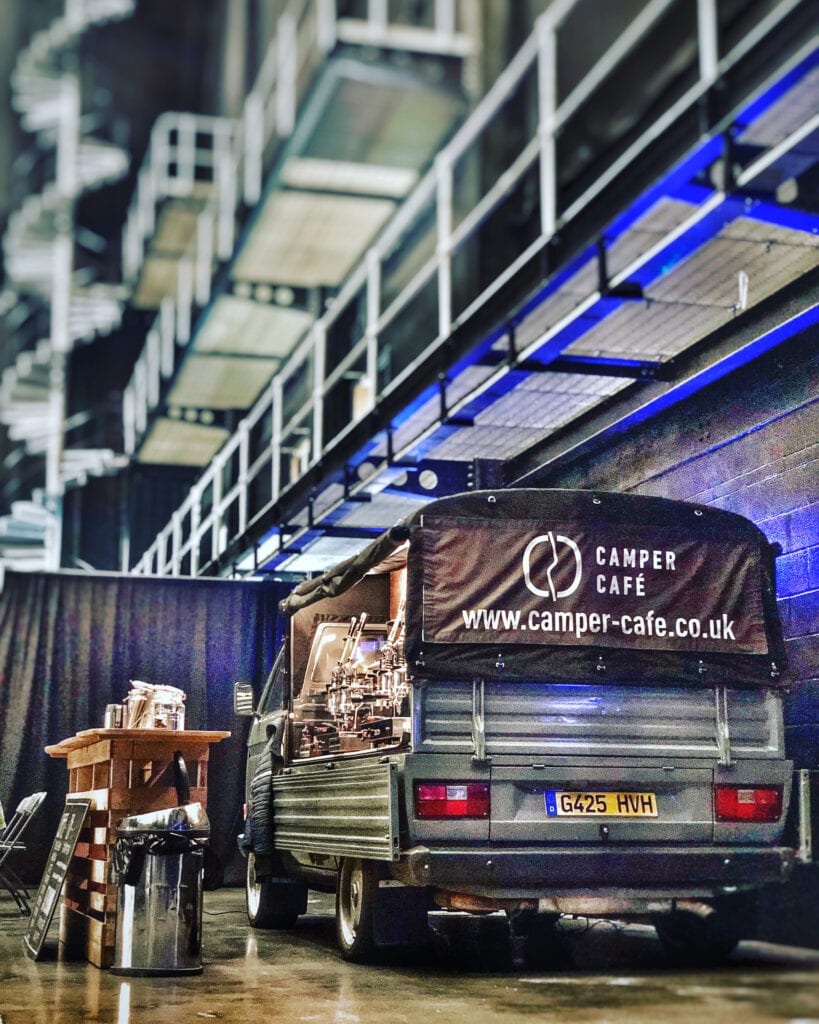 Creating the best craft service
So what do we need to consider when coming up with our craft service offering? There are a few critical elements:
1. Dietary requirements – the production industry is rife with special dietary needs. It needs a careful plan to ensure that all of these are included. It's not just the milk alternatives, it's also considering storage and preparation of food – how to keep the food groups separate, and to ensure you have a good range of snacks to cover dietary requirements. We have grown our milk jug collection and find that we need 6-7 jugs for a commercial shoot to cover individual coffee tastes.
2. Preparation – from sourcing stock, to baking and packing everything we need to deliver a beautiful array food, to ensuring we have the infrastructure needed to maintain safety aspects a commercial shoot – there's a lot to consider. We have 2 fridges on board our van, which we need to keep food and milk cold. We know that presentation in this industry is key – so slate serving boards, display stands, accessories and packaging are all thought through. Covid has made presentation particularly difficult as you can no longer display food in the same way as pre Covid. More packaging is required and more hands are needed on the job. We need to ensure cleanliness and hygiene, which often means bringing multiple knives etc as you don't have the time to wash up on the job.
3. Health – we are all understandably motivated by health nowadays, and being a diabetic I understand this better than anyone. But trying to cater for everyone's health needs is nigh on impossible, What we can do though is take some basic nutrition principles and apply them to our offering. With healthy options, we can then start to include some sweeter treats and a range of sweet and savoury options, hopefully keep the majority happy. By keeping quality high and presentation beautiful we should have the recipe for success.
4. Service – we have been doing this long enough to know that the quality of our coffee is rated extremely highly (and we're very particular ourselves with our coffee!) So the rest comes down to service. Making sure we turn up on time, are self-sufficient with our set-up to make it easy for the production team to get on with their job, and then engaging with the crew at the right level all create an experience that is appreciated by the team. I believe this is something that comes naturally and we hope that we get this bit right. It's the icing on the cake for us.