28 Aug

Camper Cafe on BBC Berkshire Radio

We've just experienced an exciting few weeks of fame and media. It started a couple of weeks ago after we got a call from a production company keen on hiring Camper Cafe for a TV Commercial shoot. The venue – a remote, old fashioned railway station in Sussex, the client – none other than Intel. They were filming their new commercial and wanted really good coffee on site to save the runners from having to venture out into the nearest town to keep Directors and Prodcers well stocked. We were there for 2 days and received really positive feedback, even surprised by the cost being lower that purchasing from high street coffee shops.

The next day we get a call from BBC Radio Berkshire. They were covering the festivals going on over the bank holiday weekend, including the Wokingham Food Festival. So Will went down to the studios and served a hot chocolate to Tony Blackburn whilst being interviewed about the business and the festival. Fame at last, even if it's local fame rather than National – we're getting there!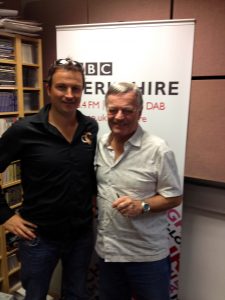 A couple of days later we were then surprised to get a call from a production company who are filming the second series of Spy (starring Darren Boyd). Because they were filming over the Bank Holiday they wanted to treat their actors and staff to "posh" coffee and we were drafted in to keep them working at their best. It was lovely to see the excitement and appreciation on everyone's faces and they were the nicest, most welcoming people. Levan got lots of cuddles, especially from Dolly one of the lead actresses who fell in love with him.
Now back to normality and looking for some more TV production work if anyone wants any great coffee……….